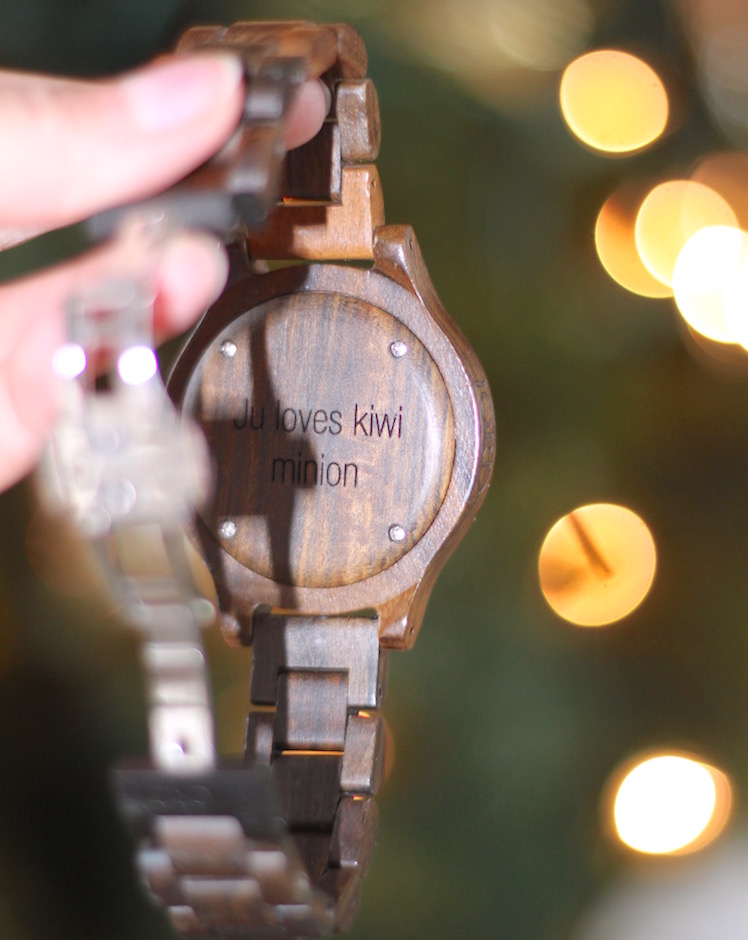 Happy last minute holiday shopping time!  Speaking of time..I've been enjoying my beautifully crafted Jord watch for a few months now, so grabbing one for the booface was a no-brainer.  Throw in some a-dorbz engraving and voila, perfect Christmas present!  I also adore all things matching (the boyf not so much ha!), so I'm very pleased with our "his and hers" watches.
I love the natural look of our classy time keepers, but it's no easy decision when watch picking from Jord..they have gorgeous colors to choose from (for the wood and watch faces), and I love them all!  See my first post on JORD, here (back when it was summertime-toasty-warm).
Engraving makes this gift idea extra personal and special.  Jord asked me to share a bit of background on the meaning behind my engraving— I went with "Ju loves kiwi minion" on the back of the watch for my boyfriend, because that kiwi (New Zealander) of mine is my bff minion partner in crime (even rocks a minion onesie with me, what a good sport).  Poor guy lost his real name to the title "kiwi" at the very start, and "Ju" is what he calls me…those kiwis shorten everything ha.  We're just total weirdos together, and my odd engraving sums it up.
I have a few $50 Jord gift cards left
and a stack of $25 gift cards, so let me know if you would like one!!
And follow this link to automatically receive a $25 off coupon to use on watches or engraving!!  
Happy holidays!!