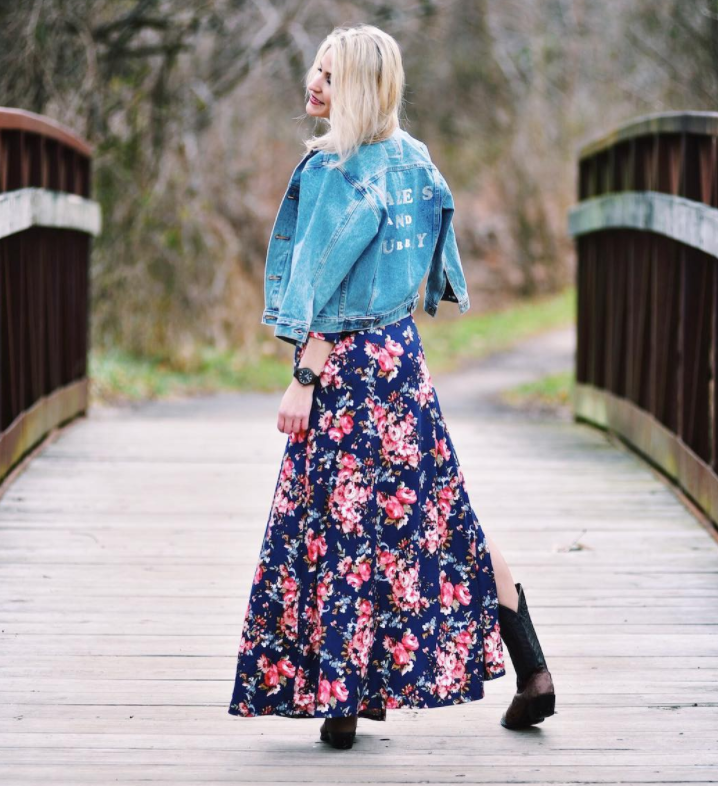 Paperback boutique has the most swoon worthy assortment of clothing and accessories!  Layer a plaid blanket scarf with an aztec print dress, or try my approach: plaid on plaid; or strut in comfort in a super soft floral maxi piece..
I absolutely love my two paperback boutique dresses– both so versatile!  The long sleeved maxi floral dress, with them sassy slits up the sides to show off some skin, is just such a rockstar piece.  Literally wear it as is, with no layering or jewels and you will look fab.  But it's so much fun to pair with a denim jacket and cowboy boots..maybe even a chunky statement necklace.  I layered a vintage 70s vest with it, under the denim jacket, along with a retro belt with a print that clashed nicely with the florals.   This created my country-boho-glam look.
You could easily roll up the sleeves, toss on some sparkly bracelets, and slip into a pair of red, blue or nude wedges.  It's such a gorgeous print, and the fabric feels like pjs, so you can't go wrong!! (Also find this dress in maroon, here)
The plaid shirt-dress (aka flannel tunic) is great worn as a dress with boots or as an open layer.  I took this piece on my vacation to Colorado and wore it unbuttoned, on top of a tank top and jeans, with a leather jacket overtop.  I also threw on a chunky plaid scarf with it–  this is where the fun "plaid on plaid" came into play.
Be sure to take a peek at their site and take note of the romantic Valentine's dresses, too!