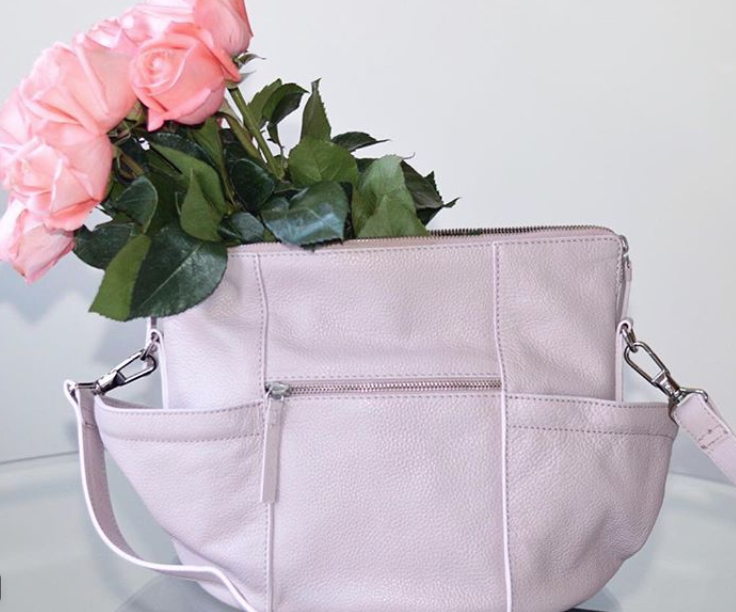 Purceval bags are SO pretty and well made, and the pocket game is strong.  If you have not yet heard of this Maryland based luxury handbag company, it's probably because they recently launched in 2016.
The bags feature high end details, are incredibly functional, and are "loosely inspired by the structure and look of medieval armor", which I find so unique and fun!
I'm loving the powdery pinky-purple shade of this soft leather "Mini Tulip Quartz" style that I've been toting around lately (available in a regular/mini size and two other shades).  Everything fits in this bag, and the interior and exterior pockets are just the right size and placement.  So many places to put things!  I feel extra organized when I use it.
The other day, I didn't want to deal with a "bag transfer", so I popped my other smaller purse into this one, and I was good to go.  Guys will never know the struggle of performing the bag transfer with such precision that you do not leave any of the essentials behind.  It's almost a given that while transferring the contents out of the clutch, into the day-bag, you will leave your favorite lipgloss or maybe even your ID that you have tucked away into a side pocket and forgotten about.
Or, maybe you're a normal person ha, and just like a bag with plenty of room for things.  I love people that pack full size objects with them for daily life– it's fun to play "what's in your weirdo Mary Poppins bag today?"  I discovered the other night that my best friend, for example, carries a full size lotion and regular sized box of tea in her bag.  Shoutout to Gech!
This bag is such an essential piece, and I feel fabulously put together when using it.  All of the Purceval bags are absolutely gorgeous, though, and you can't go wrong with any of them.  It's just a matter of choosing which one(s)…
Are you more of a Devon, Kendra, or Tulip? 
Use code JUJU20 for 20% off your order of these soft leather bags.