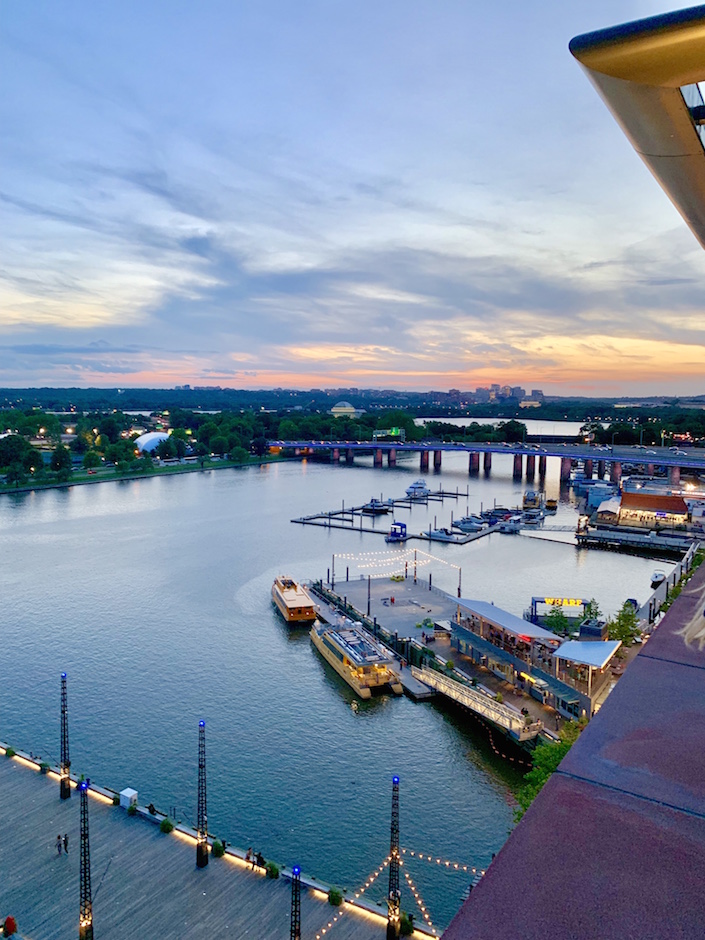 12 Stories, a sessy new bar by Gerber Group is now open at the wharf in D.C.
Happy Friday, frens! UGH another strugglebus blog post– What a tough life, having to recap a bar opening party while hungover from too many free (DELICIOUS purple) drinks.. The purple drank really went with my jewel tone Ice Capades look of the evening.  Velvet in spring/summer? Suuuure.  (Romper is on sale at Urban Outfitters rn for $20)
OBVIOUSLY you need to head over to the new 12 Stories bar, at the wharf, described as "a sexy, modern addition to The Wharf".  It's located at the top of The InterContinental Hotel, and it has a sweet view (nearly 360-degrees) of the Potomac and the Washington skyline.
I didn't get the best shots of the place…and none of the interior ha (the drinks, though) but I've included one from their site. I spent all of my time on the outside deck, which was a gorg spot to sip on the perfectly sweet "Ube-b" with boat views.  If you like spicy things (I literally ask for the hottest/allllll the peppers everywhere I go), try the Kilroy Gimlet- it comes with a cute little chili that you can swivel around to up the spice level.
Mmk that's all the brain has for today.  See my other posts on new bar openings/pop-ups for more weekend suggestions, here, and also the"in and around the District" tab.