Crumbs & Whiskers – Cat Cafe and Kitten Lounge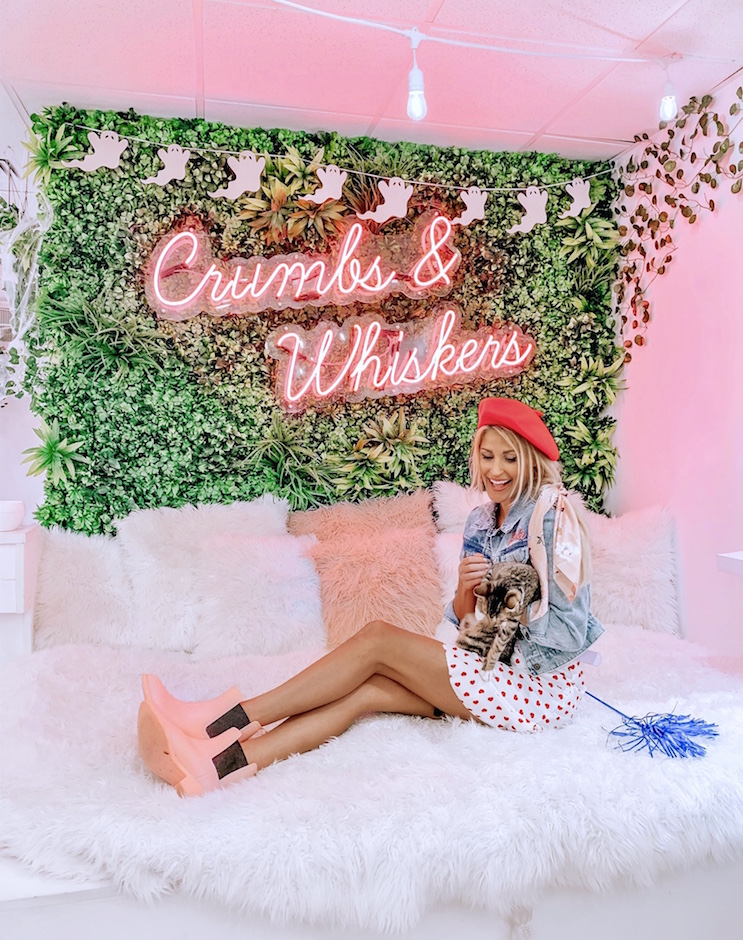 Crumbs & Whiskers – A kitten/cat cafe and lounge in Georgetown, D.C.!!
OH.MY.GOODNESS.  This place is pure bliss.  I'm not even a cat person, but who isn't on cloud 9 while cuddling with tiny furball kitten frens?!! It's certainly the cure for rainy day blues– what a unique and fuzzy experience.
This particular branch of the Crumbs & Whiskers, the Kitten Cafe & Lounge, is located on M St. in Gtown and is bouncing with adorable rescue kittens waiting to be adopted, while the O st. location makes up the Cat Cafe, where, you can choose a "70 minute cat cafe experience", "cat yoga" (Sundays), or the "Co-working with Cats", and fall in love with a rescue cat.
At the Kitten Cafe & Lounge, we spent 70 minutes playing and cuddling with the most precious rescue kittens– some were sleepy or shy, others curious and packed with personality.  It was the night of the "Purr-anormal influencer party" and oh what an IG-able, influencer-heaven this space turned out to be.  Boomerangs of pouncing furballs, photos beneath the neon light signs of cheeky cat puns..
Order a coffee and cookie dough (I opted for the vegan chocolate chip cookie dough, YUM!) and relax on the super adorable lounge spots around the well decorated and comfortable room (think shag carpets and pillows, greenery, hot pink signs) while giving the kittens love as they pad by.
Take note of the heartwarming sign with a count of how many cuddly fur-babies have been adopted and saved from euthanasia:  1,322 have been adopted; 2,847 saved from euthanasia.
If you aren't ready to leave with a cat (I'm sure it's not that simple ha, def check out the rules on adopting), then at least leave with some cat-tastic merchandise…see "Meow you doin'?" photo below of the cutie items they carry.
Book your 30 or 70 minute experience today for the Kitten Cafe or sign up for the "Comedy & Kittens BYOB" on 11/7!