Flag Gear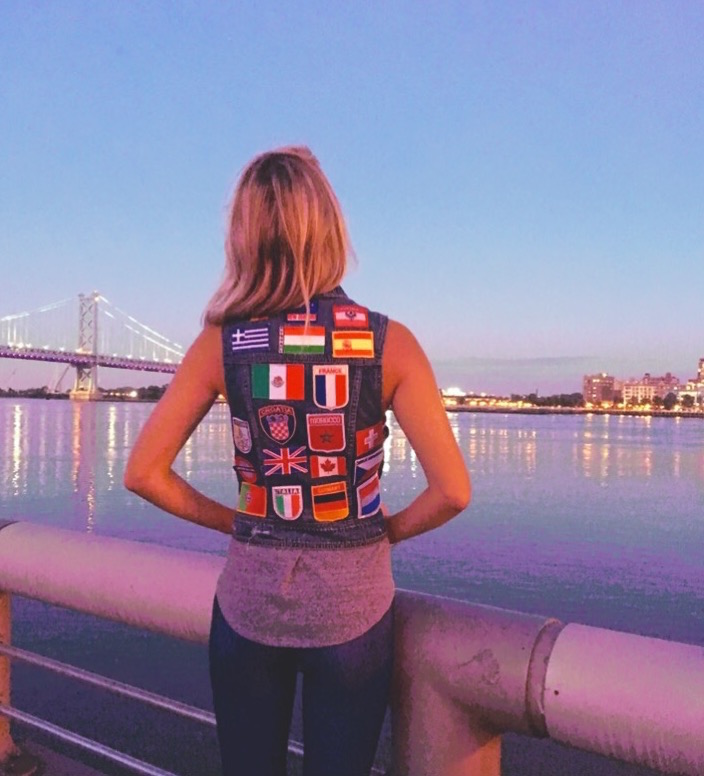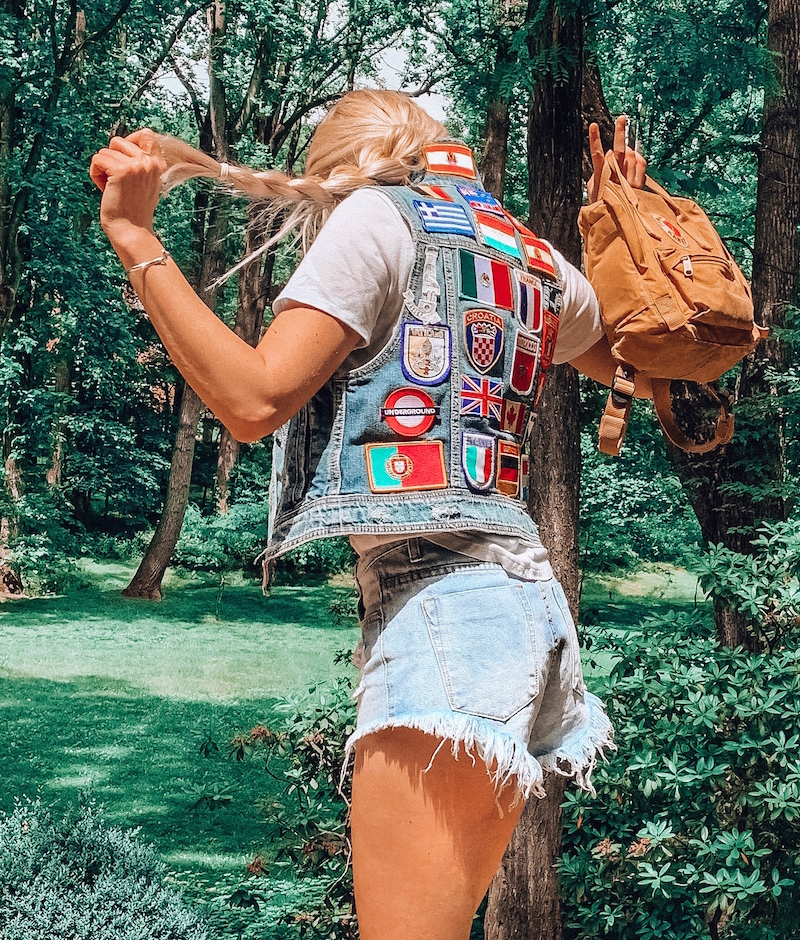 Flag Gear:
Wearable travel journals..
I have been buying quite a few vintage patches lately to sew onto hats, jackets, shorts, sweaters.., but this vest is a different.
I started collecting these patches in high school, on my travels to simply A-maze, far off places, with the idea that one day I would sew them onto a denim jacket.  The patches piled up, and I came across the jacket in which i had tentatively pinned/stitched the high school patches, and decided it was time to round up allll travel patches and get them onto a vest.
For those who want to try this out: if you think about the placement of the patches too long, you will drive yourself insane.  Just lay them all out, quickly move a few around, and run with it.  Some of the patches were iron-on, but I chose to sew them instead, projecting that this will become a beloved vintage piece wayy down the road, and I don't want any flare falling off!
I had to cheat and order a few flags/pins online recently, for those adventures that I wasn't able to purchase a patch for on the journey, and I still need to fill in a few flags from the Caribbean, but pins are also a good option for all those islands!  Some space remains for the next patches or pins (popped collar, hey!), and I figure if I run out of space, I can always sew into the inside. Only USA gets the front of the vest, because 'Mercuh!
The leggings I'm wearing are printed with the Colorado flag (from ColoradoThreads.com), and I'm sure most people that wear these either originate from Colorado or live there now, but since it's one of my favorite places from childhood (and I travel there regularly/daydream about moving there one day), I had to grab a pair!  They are amazing quality, so flattering and so comfy!
Here's a list of just a few of my absolute favorite places from my journeys..if a country isn't listed, it's not because I didn't love it.  These are just the places that stick out the most in my mind, in no particular order, and the more I think about adventures, the more I want to add, but I would be here all night:
Hallstat, Austria (this may be the most magical place I've ever been..)
Melk, Austria
Brugge, Belgium (total storybook place)
Bacharach, Germany
Rothenburg, Germany
Mosel Valley, Germany wine country! (Riesling for days and the cutest storybook towns, like Beilstein)
Greek islands: Hydra, Kefalonia (Asos!), Santorini(!), Mykonos 
Amalfi Coast, Italy (Positano); also the Cinque Terre region!!

More Italy

: Bracciano, Pompeii (so eerily awesome), Venice (because duh), Lake Como (never did find Clooney)
South Island, New Zealand (Queenstown, Wanaka, Lake Tekapo)
North Island, New Zealand (Tongariro Crossing, Russel- Bay of Islands)
Hvar (both Hvar towns and nearby Pakleni islands), Croatia
Murren, Switzerland
Asilah, Morocco
Gibraltar– visit the Rock of Gibraltar, see the breathtaking views and play with the monkeys!! The babies come right up to you and try to take your food!
Lisbon, Portugal, also Obidos, Nazare(!!), Coimbra(!)..ugh just

EVERYTHING

White Hill Towns (Ronda?), Spain, and Salamanca, Granada, Seville, Tarifa before catching ferry to Morocco; again, just 

EVERYTHING

Cozumel, Mexico (been here prob 4 times because the water is gorgeous and the island is so cute. I mean, when the water is just as pretty in Mexico as Tahiti.. and I

know a fun guy/company for a party boat snorkel cruise, fyi

!)
Bermuda (SO beautiful and unique..pink sand beach and plenty of empty beaches to discover, English vibes.  Rent a scooter if you can drive on the left side of the road!)
Grand Turk, Turks and Caicos (the old Cockburn town is adorbz)
Prague, Czech Republic (the bridges!)
Budapest, Hungary (the baths!)
Amsterdam because hwoah, that prostitute/Coffeeshop life..peeking into another culture for sure.  Mary Jane and canals.  Except I definitely visited the red light district and coffeeshops with my mom hah, so the closest I got to weed was standing next to the list of items for sale to snap a photo.  Of course the must-see is Anne Frank's house.
French Riviera (Nice, France was fun, but too big..loved the smaller and cuter town of Villefranche-sur-Mer)
If anyone has a travel question about these places, feel free to email me, and I will do my best to give you tips and suggestions.  Or if you have suggestions for me, please share! 
And one more tip- Rick Steves has a great selection of travel books, with handy details and off-the-beaten-path places.
Side note- I think a second vest with U.S. state pins down the side panels is on the to-do list.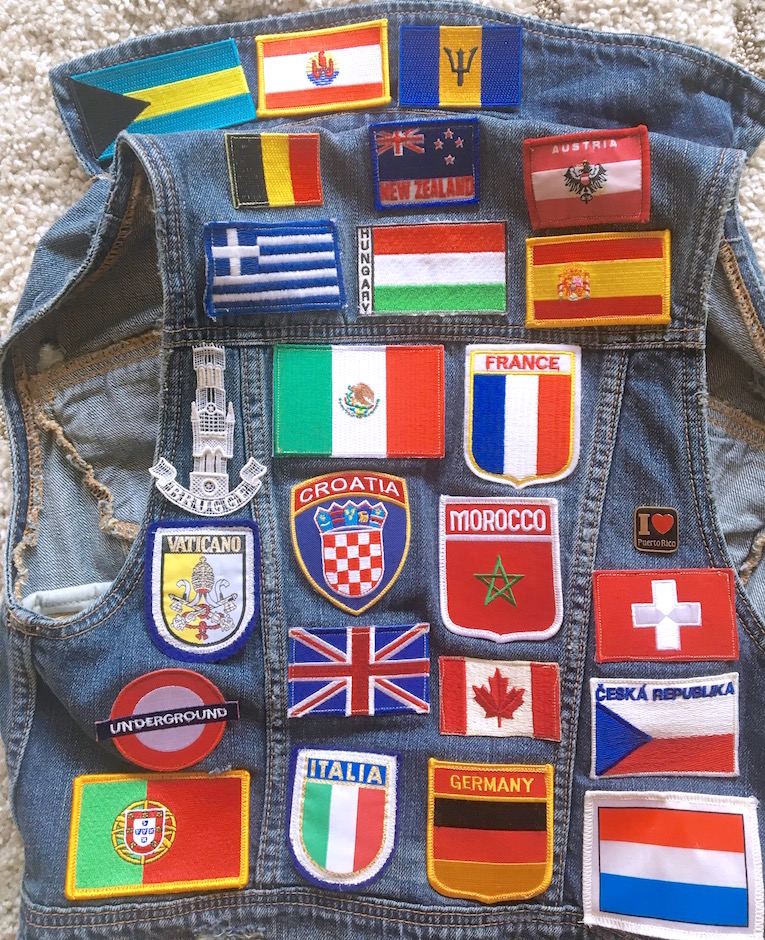 Now updated with Monaco (not to be confused with Morocco ha, that's on there!):