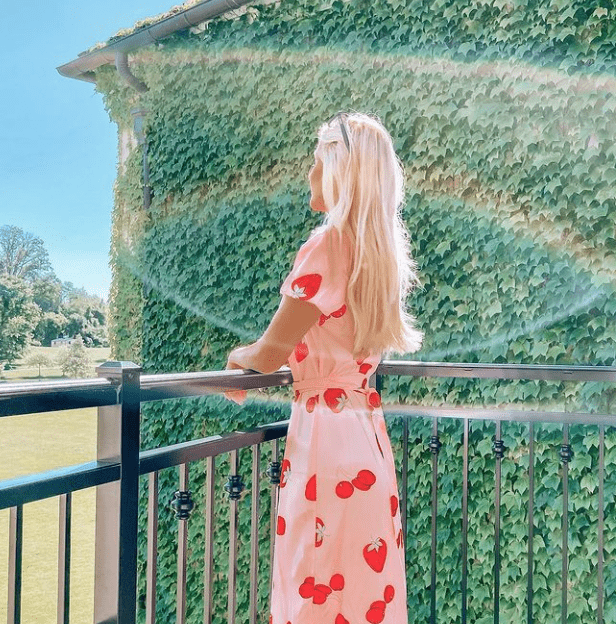 I've now had the extensions in for about 2 months, and I'm 100% satisfied with them, and feeling amazing!  In the past I have tried out the tape-in extensions and the nano bonds (pricier and harder to maintain), but I will ONLY be going with Brittany's weft extensions from now on.
Prior to getting these lovely extensions put in, I was using the pop-in halo extension, which is very uncomfortable after a few minutes (headaches and such) and can shift about, is hard to style (good luck creating a ponytail..), and is inconvenient to remove/put in (sleeping in those are not ideal…nor can you realistically swim with them in).
I can't believe I didn't even know these hand tied/beaded weft extensions existed!  They are kind of similar to wearing the halo, BUT, rather than a band that goes over top of the head, with one solid chunk of u-shaped hair, these weft extensions do not have a band to irritate the top of the head, and they are distributed evenly in perfectly placed u-shaped rows, hidden by your top layer of hair, without any weight on the scalp (if you have a sensitive scalp, the tiny beads that secure the rows of hair may cause you irritation, but I don't notice them).  It's SO wonderful to able to wake up and go; swim in the ocean with them; wash, dry and brush my hair per usual (with an extension wet brush, which I was already using)…
The first step of the extensions process was to send Brittany photos of my hair color in natural lighting, so that she could select the perfect shade for me.  She likes to use the extensions by Bombshell– 100% remy human hair (but you can go with whichever brand you are most comfortable with), and she picked the shade #D16 of the machine weft extensions (Machine weft extensions work with any technique but hand tied extensions only work with the hand tied technique…Bombshell sells both "machine weft" and "hand tied").  Brittany is able to do Hand Tied or Beaded Weft, depending on your needs.  Super fine or weaker hair is better with Hand Tied (but this can come undone faster if brushing a lot or hard).  If you buy from Bombshell, they offer a half-pack of hair extensions in this hand tied type, if you don't want to purchase a full pack of the beaded weft extensions.
Based on Brittany's professional opinion-  I opted to go with 2 u-shaped rows of machine weft hair around my head (for beaded weft extensions), along with 2 half-rows on either side-front of the head, leaving me with part of my Bombshell pack leftover for future use.  The hair typically lasts about a year, depending on how well you take care of it.  Using sulfate free shampoo and conditioner is always a good idea (extensions or not)!
It takes about 2 hours to apply the extensions, including the time it takes to cut and blend the extensions to match your real hair, and they need to be moved up about every 2 months as your hair grows out.  The follow-up appointments only take about 30 minutes (all that needs to be done at these sessions is to slide the beads up).  Taking a break in between wearing the extensions is always an option (again, you can reuse your pack of hair for about one year straight before it starts to look a bit shabby).
My extensions are light & comfortable, blend perfectly with my hair color & cut, and are skillfully placed to remain hidden.  Worth mentioning, though– don't get the extensions in contact with sunscreen!  They will turn orange (this happened to me in Mexico ha).  If this happens, simply use purple shampoo and conditioner to bring the color back to its original shade.
Thank you so much, Brittany!  What a difference these extensions make.