Tahiti Travel Tips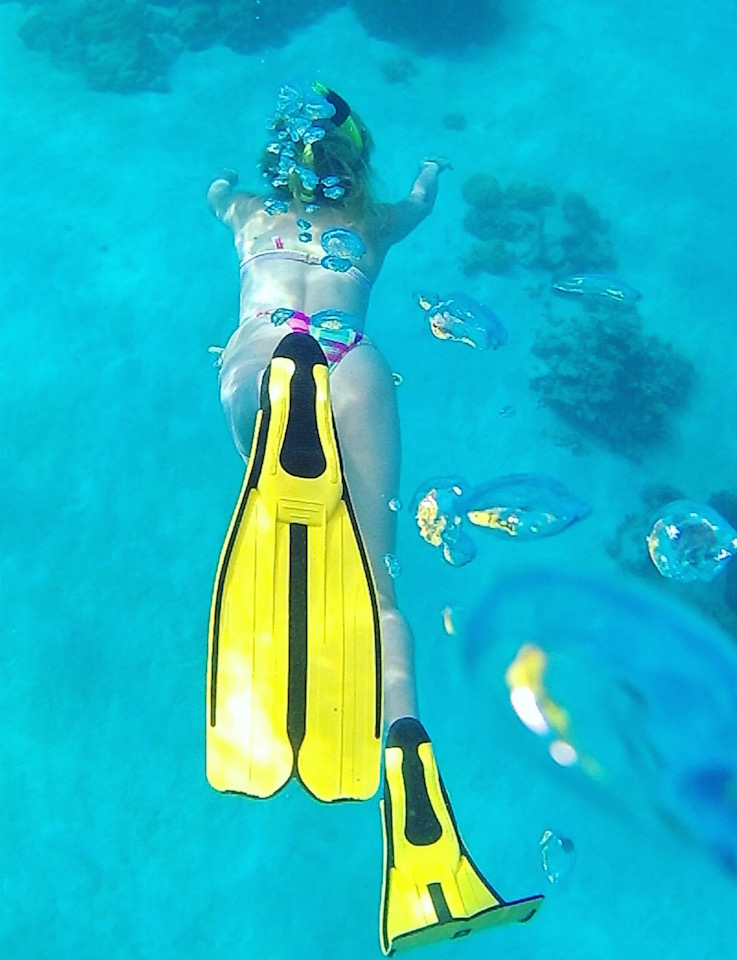 Above photo: "Fin Censor" by the Kiwi (@alexjbrowne)
My time in Tahiti was brief but wonderful.  This Tahitian leg of the trip was just a bonus to the New Zealand adventure, made possible through an Air Tahiti Nui deal, which offered a free(eee) three night stay at the Manava Suite Resort (only about a 10 minute taxi from the airport, $20).
I'm not sure how often this a-mazing deal runs, but do your research because holymoly what a treat.  I would have been happy with a free campsite, but a luxurious suite at an oceanfront hotel?!  Yes please!  And the Air Tahiti Nui airline is amazing–  personal tvs, pillows, blankets, and delicious food…like, I was blown away (edamame and quinoa dish!).
I highly suggest booking Tahiti on the way back from NZ, rather than stopping on the way there…you will really appreciate the break from endless flight time.  Just make sure you keep your dates straight- I flew from New Zealand on the 7th and landed in Tahiti on the 6th….so trippy. Trippy trip. 😀
*Note: Book the entire trip (U.S. to N.Z. and back) through AirTahitiNui.com (it just happens to have the option for a stopover in Tahiti).  And east coast people– if you want, you can end the return trip in LA, stay there a few days, and book a one way from there to D.C.  Breaking up the return trip with a stopover in Tahiti and then LA was perfect. 
And as far as the digs.. the Manava Suite Resort was reallyyyy nice for being free, and an average resort if choosing it on other terms.  I was very happy with the large room and balcony, clean grounds, and infinity pool.  There wasn't an actual sandy beachfront, but the combination of infinity pool with views of Moorea Island in the distance was stunning.  Pool bar, water bikes, lounge chairs, a dock to jump off of into the ocean if you wish.. it had all I needed (because, really, what does one need besides a lounge chair and a margarita?).  Except for snorkel gear.
Since snorkel equipment was not provided, or available to rent, I ended up booking a snorkel tour through the resort for about $60 per person (after calling around to other places that were all mysteriously closed on the weekend..), and it was a perfectly fine excursion.  Easy pick-up from the hotel, nice snorkel gear, laid back guides, beautifullll, crystal clear blue water, pretty reefs, sunken airplane, colorful fish to feed..  I even had a run in with a shark.  The tour was a couple of hours long, but probably would have run longer if I hadn't been so terrified of the water after being casually circled by a shark…twice.
Cars are available to rent, or you can catch the shuttle into town from the hotel (think it was about $12 each way, 10-15 minute ride).  "Town" is the city of Papeete, and it had a surprisingly beautifully maintained park and gardens along the waterfront.  Wander through the streets past Notre Dame Cathedral, grab a beer at a local establishment, pop into the market and do some shopping.
One major downside to the hotel was the food selection– bleak at best (and expensive!!).  Luckily there was an option to walk down the street to the Blue Banana. Or take a short stroll in the other direction to find the local market, where  you can pick up a fresh baguette and a bottle of wine.
Check-out was easy, and the hotel was incredibly generous, providing a free room for showering and changing prior to departure (after using the hotel facilities the entire day, post morning check-out).  They kept my bags in storage until I requested them, and if I remember correctly, I was given fresh pool towels even though I was checked-out and no longer technically a guest.  This made a late night flight soo worthwhile…relaxing (and boozing) all day, and then having a place to shower and change before grabbing a taxi the short distance to the adorable airport.
I'm disappointed that I didn't make it over to Moorea (the island spotted in the distance from the infinity pool).  It's supposed to have great snorkeling, but between the odd hotel shuttle times and the ferry times, it didn't work out.
"Next time" I will pack soo many snacks (maybe even some PBJ), exchange more money (credit cards work just fine, but not for taxis..I don't think(?)), rent a car one day and explore the island, and catch the ferry over to Moorea (and pretend I'm a guest of the Hilton..).
Oh, and pack a converter to charge that phone-baby.  The hotel had one, luckily, because the New Zealand converter is as far as my planning got me on this trip.
Hope these tidbits come in handy!
Also:  I WILL eventually post my New Zealand adventures & tips…there are just so many to sort through!!