The Graham Rooftop and Alex Speakeasy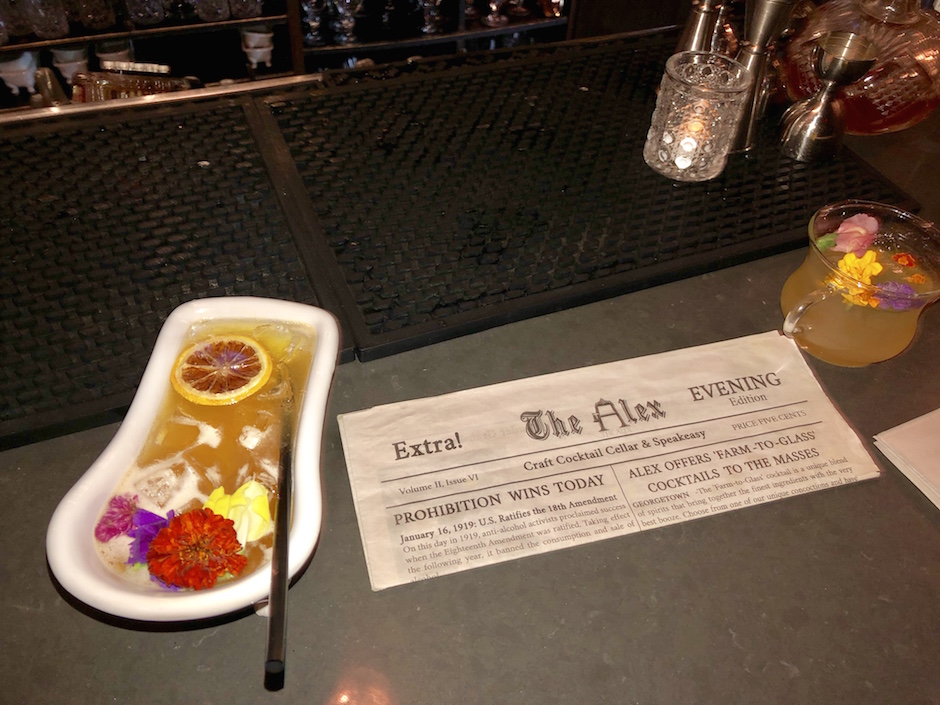 If you're stumped on what to do this weekend, head over to the festively decorated Graham Rooftop of The Graham Hotel (Georgetown) or the cozy Alex Speakeasy in the basement.   Don't worry, the rooftop is currently enclosed and toasty enough to enjoy a cold bev.  And the bevs are v enjoyable.
You can drink a whole flower garden!  Shoutout to the bungarden!  Ahaha sarz, inside jokes, bai.  But seriously though, check out the photos of beautiful little petals floating atop all of the yum, and looook at the mini bathtubs!  I LIKE MY BEVS TOO CUTE TO DRINK.
Hopefully when you visit the Alex Speakeasy you will run into the very pleasant bartender, Adam, who can set your craft cocktail concoctions on fire, no big.
This speakeasy and "craft cocktail cellar" also offers small plates and three course meals and has now launched its new dinner and cocktail menu, as of 11/29.
Oo AND you can enjoy live jazz on Saturday nights from 8-11PM.
Before or after your visit to the The Graham Rooftop or Alex Speakeasy, you can also check out the new Georgetown GLOW, which opens tomorrow, December 1st!
Have a wonderful weekend!