The Lawn Exhibit DC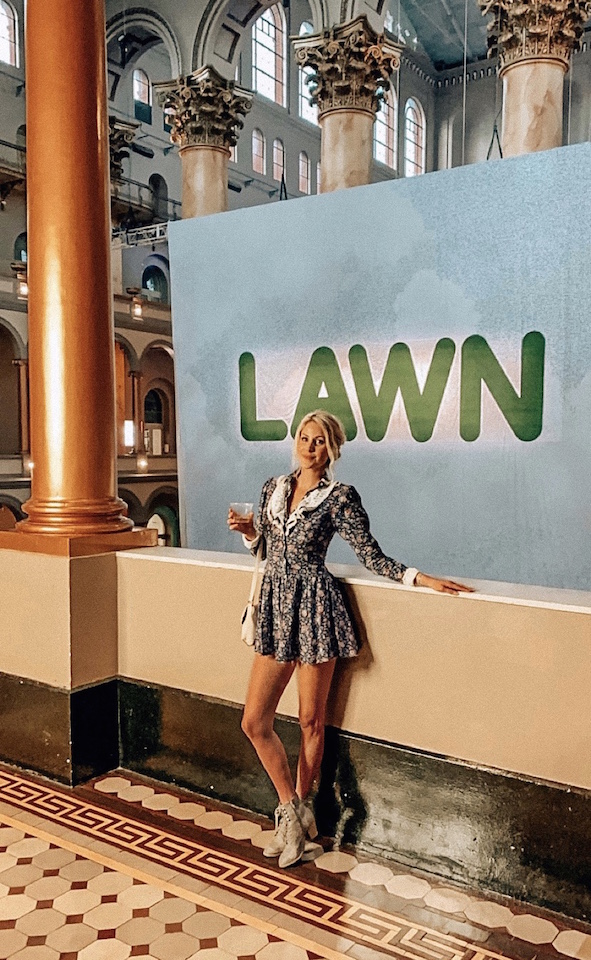 The Lawn Exhibit at the National Building Museum in D.C.:
Mmkurr so this Lawn exhibit was way different than I expected… nowhere near as fun as the "Beach" or "Funhouse" exhibits.
It really only makes sense for a rainy day, and in my opinion should be a winter exhibit so that when we are all missing summer so hard, voila an indoor pretend-outdoor summer world. But alas, it's end date is oddly September 2nd.
We attended the late night viewing (Wednesdays from 6-9) and the tickets were a tad overpriced ($20) considering you are essentially paying to sit on someone else's chair instead of your own, and regular museum admission is $10. The hammocks were a cute touch, I'll give them that.
The bevz had restrictions on where they could be consumed…only by the bar/ping pong area, not in the main green space.  Aka you couldn't sit on the "grassy hill" or lounge in a hammock while enjoying your beer.  That would be too relaxing.  Previous exhibits allowed visitors to drink smack dab in the middle of the fun, so I'm not sure what hooligan ruined it for all of us ha but it ain't so great.
I really did expect more out of this one, but I'm just spoiled from the a-mazing prior exhibits, I suppose. Didn't I read something about augmented reality fireflies?  And movies playing inside the indoor-outdoor world?  And speakers by the hammocks sharing summertime stories.  And sounds of crickets chirping?  It's all way better in text.
I don't want to come across as bashing the exhibit because I truly enjoy that such a gorgeous building continuously puts on unique, immersive installations– giant marble columns dwarfing run-of-the-mill lawn chairs..just unusual enough to bring a splash of joy.
You can access the museum's many other exhibits (included with your Lawn ticket) and you can join a building tour as well, so get your money's worth.
Again, save it for a rainy, wompy day and expect simply a space to relax and enjoy the contrast of the ornate Great Hall and fake grass…