Tropical Getaway Packing List – Le Nouveau Moi Magazine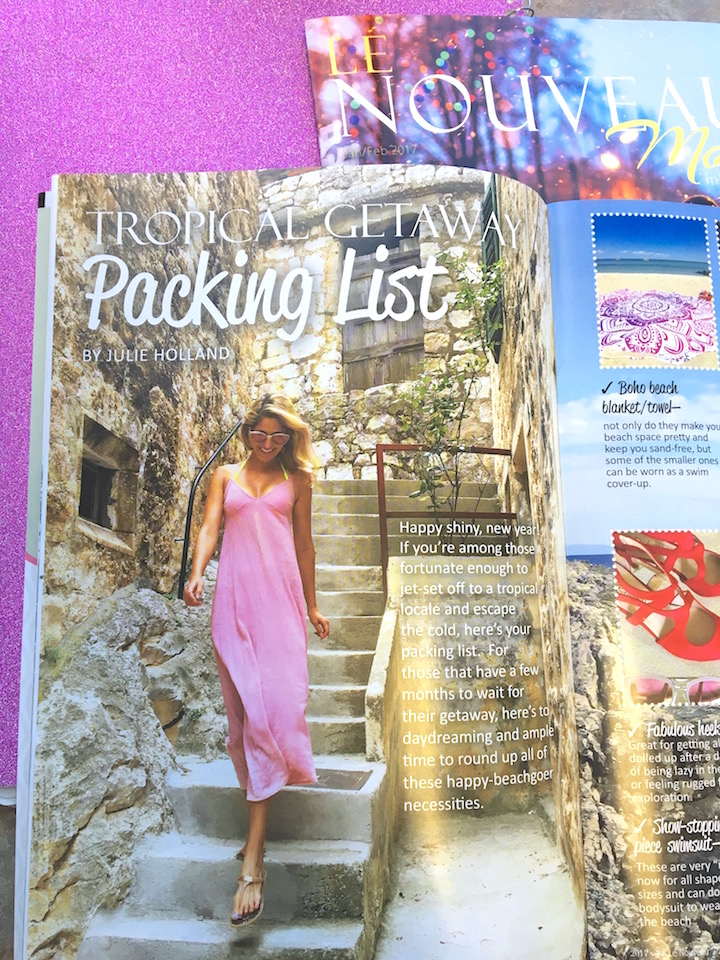 Packing can be a bit of a chore.  Sorting through all of those cute outfits and trying to remember to pack matching jewelry, shoes, bags, bras…  And that's before you even get into hair products/tools, face creams..oy.  Quite the challenge.
I've already written up a helpful packing tips post on the blog (see that here), but this one is more of a fun list, specifically for a beach getaway.  No, you don't need the boho blanket, but will it make you happy? Probably.
So here is my "Tropical Getaway Packing List" in the most current issue of Le Nouveau Moi Magazine (which I put together from this past summer's travels to Italy and Croatia):
Also see travel post on Croatia here, and the Italy post will go up soon!
BAE watch suit post is here, and red maxi dress post can be found here.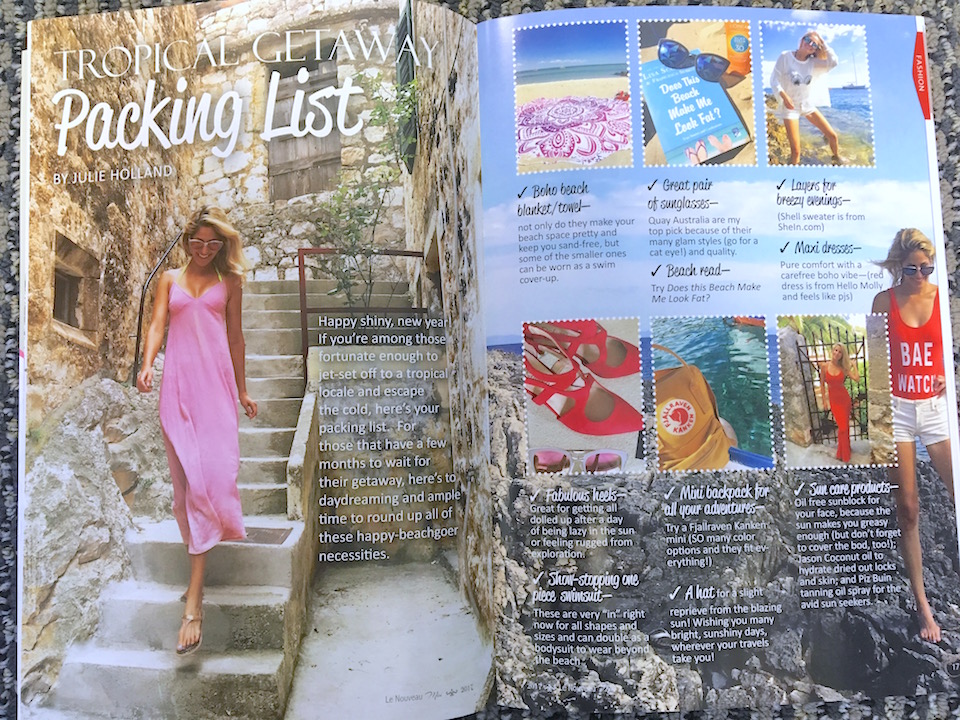 If you're among those fortunate enough to jet-set off to a tropical locale and escape this cold, then here's your packing list.  To the rest that have a few months to wait for a getaway, here's to daydreaming and ample time to round up all of these happy-beachgoer necessities.

Show-stopping one piece swimsuit

— these are very in right now for all shapes and sizes and can double as a bodysuit to wear beyond the beach


Boho beach blanket/towel

— not only do they make your beach space pretty and keep you sand-free, but some of the smaller ones can be worn as a swim cover-up.


Great pair of sunglasses

— Quay Australia are my top pic because of their many glam styles (go for a cat eye!) and quality.

Beach read

— try Does this Beach Make Me Look Fat?


Layers

for breezy evenings (shell sweater is from SheIn.com)

Maxi dresses

—  pure comfort with a carefree boho vibe– (red dress is from Hello Molly and feels like pjs)

Fabulous heels

— great for getting all dolled up after a day of being lazy in the sun or feeling rugged from exploration.

Mini backpack

for all your adventures– try a Fjallraven Kanken mini (SO many color options and they fit everything!)

Sun care products

: Oil free sunblock for your face, because the sun makes you greasy enough (but don't forget to cover the bod, too!); Jason Coconut oil to hydrate dried out locks and skin; and Piz Buin tanning oil spray for the avid sun seekers
And don't forget

a hat

for a slight reprieve from the blazing sun!