Fairytale Solo Travel to Bracciano Italy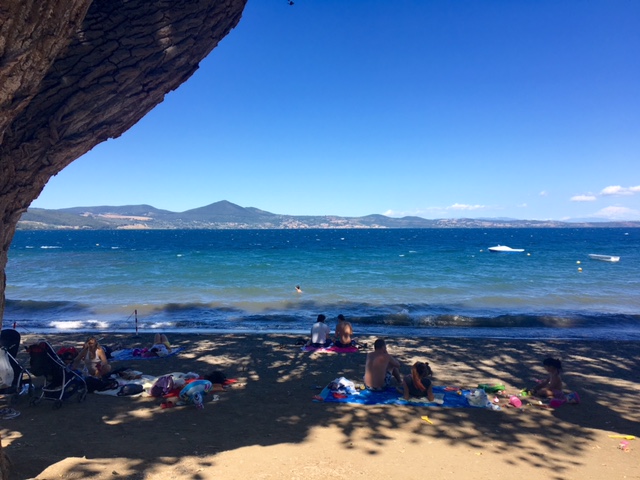 I think it's taken me a year to write this post because this solo travel experience was just too amazing to put into words.  
Last summer I went to Italy with a friend and ended up taking a spontaneous solo excursion at the end of the trip, because I had the urge to explore, and she was happy spending time with her adorable Italian family.
See this post for a brief recap of the Italian adventure in Tortoreto Lido.  We also popped over to Croatia on this trip.. See that travel recap here.
Because I was flying out of Rome in a few days, I decided to head to a spot not too far from there (I had already done Rome, Venice, Pompeii, Amalfi Coast, Cinque Terre on a different trip ahhhh Italy is seriously too amazing).
I found the magical-looking lakeside town of Bracciano, Italy and booked an airbnb, which turned out to be the most legit Bed and Breakfast(!!).  I didn't even know prior to arrival that this is where Tom Cruise and Katie Holmes got married, in the 15th century Odescalchi Castle.  So, I booked a bus from Tortoreto Lido to Rome, where I then caught the train to Bracciano.  I just asked a lot of questions, because I had no idea what I was doing.  I was so lucky to find the sweetest girl to help me figure out which train to take.  And then once on the train, many more questions to anyone who would answer about where to get off ha.  I would get lost in a second if there weren't kind people out there willing to help! 
A lot of people day trip here from Rome, since it's only about 45 minutes away.  You could make it a day trip, but staying in the B&B is a necessary part of the magic.  Like, you HAVE TO STAY AT THIS B&B ha.  It's SO so cute!!!  The family is so sweet, and I had fun spending time with the son of my "B&B parents"..even got to join excursions to the nearby towns, it was such a bonus!  The B&B is out of a movie- straight storybook setting.  My room was so precious- chocolates on the pillow, fresh figs, tea set.. I packed a string of fairy lights so it was like the definition of magical in that room.  My "B&B mommy" was a chef for 30 years, so the food was amazing!  You don't expect to get fed when you book an airbnb, so to have a chef feeding me 2 meals a day AND PACKING ME PICNICS?  Homemade pies, jams and sweets.. Aahhhhh!!  AND it was so inexpensive!  Follow them here, on facebook.
This castle was definitely one of the highlights of the trip.  It is SO beautiful, and I was able to wander through alone (ran into someone like once)!!  There wasn't even a guard present to scold me for touching things (doopdedoo, boop).  Afterwards, I roamed around town listening to "Castle" by Halsey.
Since I was already in Italy, I know this doesn't quite count for the brave solo travel points it would otherwise, but I'm still pretty proud of it.  
Here are a few blurbs that I posted throughout the trip, so you can see the effect this place has:
Beginning of the trip: And here I thought I was booking a regular old airbnb..this def makes up for never having been to an actual bed & breakfast before. Church bells dinging, lake "swan crossing", charming old streets.. And it's all only about 30 min from Rome (locals' getaway spot/day trips)! Can you imagine? People commute an hour in the awful dmv area and you could just live in one of the three towns on this lake and train or drive into Rome instead. Not that Italians would ever commute, they're too good at staying happy and enjoying life.
An excited one from the middle of the trip ha: Ohemgee i cant evennn: storybook room around the corner from a castle, in the most darlingg b&b with the sweeetest couple, "forced" to eat homemade pie (for breakfast) & toOo much other yums because you don't say no to an Italian trying to feed you. She even packed me a picnic for today!!
End of the fairytale journey: It's been pretty surreal staying right by a gorgeous castle, wandering through charming cobblestone streets, hearing the beautiful dinging of church bells, swimming in the blue lake below, feasting on the homemade cooking of my b&b "mommy" (who was a chef for 30 years), meeting new people, and learning that traveling alone is far from lonely.  🎵I'm headed straight for the castle🎵
***
So next time you are heading anywhere near Rome, make a trip here!!
Explore the castle, roam around the adorable streets of town, swim in the beautiful lake, windsurf/canoe, grab a drink (or entire pizza, like I did!) at a waterfront restaurant, ferry to the other lake towns, like Anguillara Sabazia.